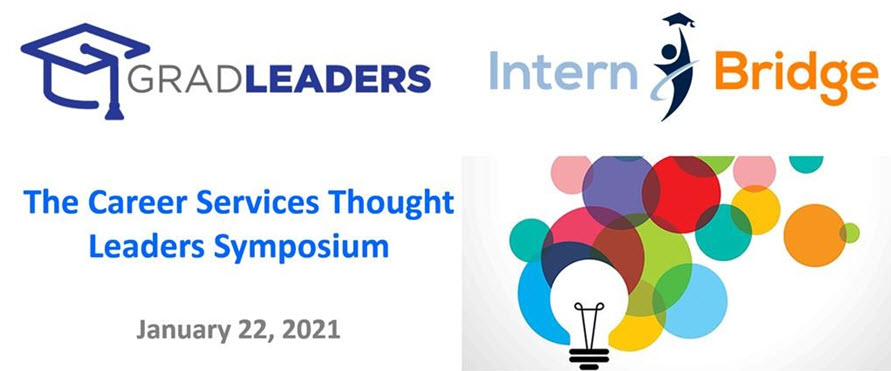 GradLeaders is excited to be sponsoring this year's Career Services Thought Leaders Symposium. This is the premier professional learning and sharing event in North America for college & university career centers. Each session is focused on cutting-edge topics impacting the career services industry.
This year's Keynote Speaker is Jeff Butler. Jeff is the author of two provocative books – The Authentic Workplace and The Key to the New You and CEO of JButler International. Having written over 100 articles on workplace dynamics, his insights have been featured in dozens of media outlets such as Forbes and HR News. In addition, he has appeared on TEDx in both 2016 and 2017 with both talks focusing on psychology. Before Jeff founded his workplace consulting company, he spent almost a decade in Silicon Valley working as a Software Engineer which is where his initial interest in organization psychology began to develop. Since then, he has personally addressed over 100 organizations internationally on workplace dynamics issues such as Google, Amazon, LinkedIn, and Wells Fargo. He lives in Boston, MA with his family.
His keynote presentation is titled "Preparing for the Workforce 2020." After 500 interviews, working in 5 companies and interviewing dozens of professionals in his podcast- GigaNation, Jeff has combined both his personal and current trending industry advice into this program. This programs covers the essentials what is required to get hired in today's competitive landscape. Everything from tweaking LinkedIn, hiring communities at Google, to managing interview rejection, this talk covers both tactical and strategic approaches to getting hired in tech. This program is aimed to teach entry-level to mid-level manager positions to:
Explore the importance of "soft" skills for handling interviews such as behavioral questions and emotional intelligence
Discover technologies to multiply your effectiveness of getting hired
Learn what really happens behind the scenes at the top companies at the world such as Google's hiring committee decisions
There are also dozes of other featured presenters at this year's event including:
Jay Skipworth, Jessie Simonik & Matthew French – University Career Center, UNC Charlotte
Makesha Dockery – Georgia State University
Dr. Chris Laney & Doug Heckman – Emsi
Jillian Low & Rachael Criso – Virtual Internships
Zen Parry – Trepademics LLC
Emmaline Armstrong – Center For Student Professional Development at Delaware Valley University
Roseanne Bensley – New Mexico State University
Lynda Busack & Megan Anderson – Waukesha County Technical College & Alverno College
Dr. Candice Racite – Rowan College South Jersey
Dr. Kathy Tuberville – Fogelman College of Business and Economics
Rishav Khanal – InPerson
Cindy Damschroder – University of Cincinnati
Juan E. Armijo – Texas Woman's University
Dr. Pam Schilling & Dr. Jeremy Morse – Archer Career
Steven Rothberg – College Recruiter
Patrick Madsen – University of North Carolina at Charlotte
Ann McAdam Griffin & JP Abercrumbie – Rice University
Stacy Moore – Delaware Valley University
And Many More…
Thousands of colleges and universities have participated in past programming like this with 98% stating they were "highly satisfied." The program is a highly affordable, convenient, and flexible professional development opportunity.
Learn more or register today at https://internbridge.com/tls2021/