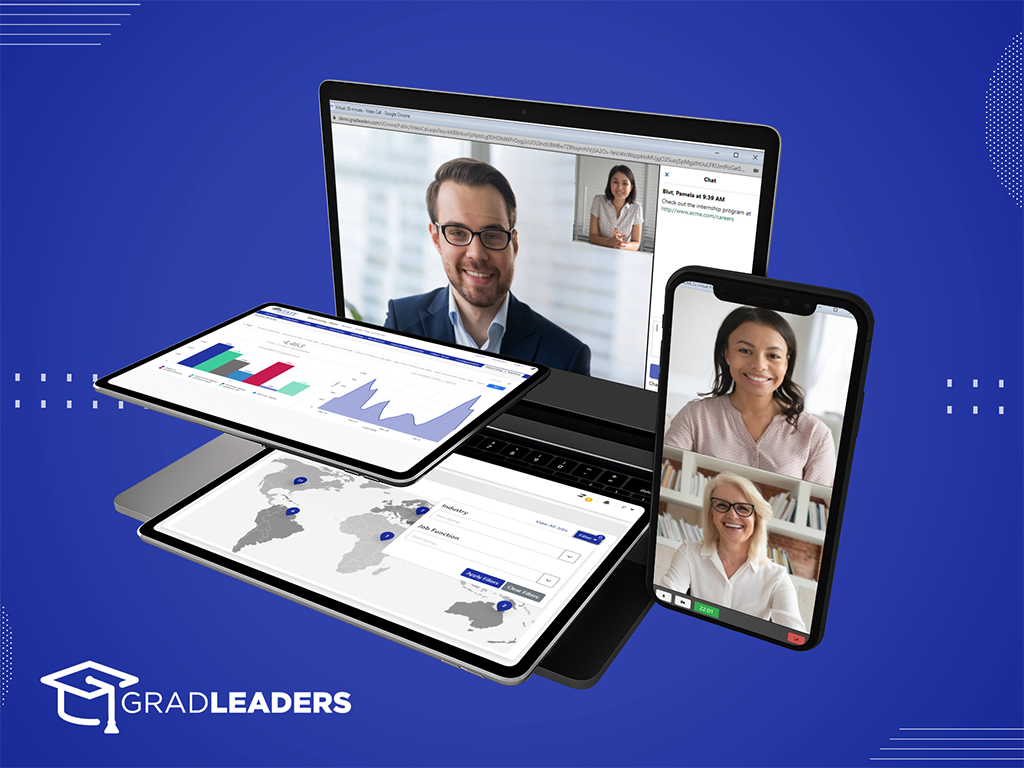 For decades, GradLeaders has been committed to delivering innovative and best-in-class features to improve the experience for all of our partners. The past year has been no different. Throughout 2020, hundreds of enhancements were completed as part of our monthly releases, here are some highlights:
Fully-embedded Video Meetings and Live Chat
GradLeaders makes it easy to streamline virtual career services with fully-embedded live video and chat for 1-to-1 or group meetings including Advising Appointments, Company Events, Interviews, Workshops, Mock Interviews, Peer-to-Peer Advising and Career Fairs.
SMS/MMS Messaging Enhancements
Improvements have been to our text messaging functionality to make it easier to quickly send SMS/MMS messages to students or alumni who are signed up for virtual appointments or events. New automated reminders have also been added to the platform that automatically send notifications directly to users' mobile phones.
Multi-Window for Students, Employers, and Admin
We've updated the GradLeaders Career Center student, employer and admin interfaces to better allow multi-tasking capabilities. The release of this new multi-window feature allows users to run the application in multiple browser windows at once. Users can now open as many different grids and detail pages as preferred without losing their search.
UI Improvements for Admin
We refreshed the GradLeaders Career Center admin interface with a clean and modern look to make it easier to use while maintaining the same robust functionality. Top-level menus are sticky and require clicks to activate (instead of hover or rollover). The new design uses the full width of your screen. Your dashboard widgets stack and re-position based on screen size.
Complete Overhaul of UI for Students and Employers
We also redesigned our student and employer interface this Summer. All menus and school-colored banners are now sticky plus buttons have been tweaked to make next actions easier to complete. The platform remains Section 508 and WCAG 2.1 accessibility-compliant for students and employers as well. This overhaul improves usability while also offering additional tools to customize the platform and make it your own. Users can not only access your career center on all devices but they can also quickly add a school-branded responsive app to their mobile device's home screen so they can quickly access it again later with the click of a button. We also made tweaks to login screen backgrounds that can include photos from your around your campus or inside your career center.
Improved Job Search Filtering
Enhancements have also been made to the job board dashboard widget and job search functionality to make it easier for students to quickly find more right-fit jobs for their unique skills and interests.
In-App Announcement Targeting
Career center admins can how add profile fields as announcement eligibility filters to improve in-app message targeting to students or alumni. Dashboard messages and notifications are only delivered to the students or alumni matching the eligibility filter.
Want to learn more? Contact us to setup a call or brief demonstration.