A scary good source of business leaders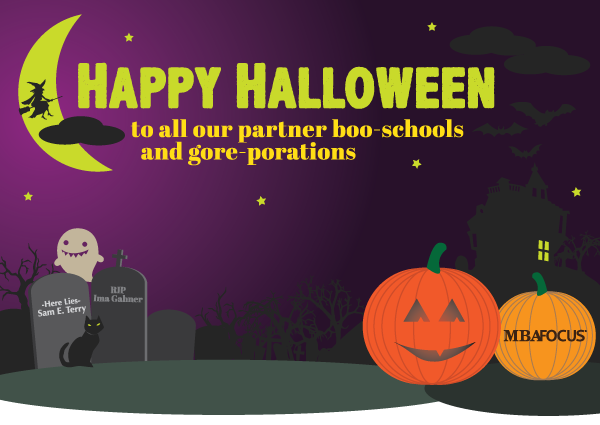 Fall is here. The leaves are changing their identities, backyards are filled with bonfire smoke, smores, cider, and pumpkin donuts. Fall is one of our favorite times of the year here at MBA Focus, and Halloween is one of our favorite holidays. As we work tirelessly to meet our "ghouls" here around the office, we thought we'd share some of the spookiest stuff about our network – where the world's top gore-porations and boo-schools connect! Interested? Continue reading…. If you dare!
Now most ghosts don't have an MBA (unless they're a Masters of Business Apparition), but 57 of the candidates in our database have the word "Boo" in their last name, while 2,778 students have a resume containing the word 'Boo'.
What's Halloween without candy? 83 alumni have the word "Hershey's" in their resume. What a sweet selection of candidates!
12 alumni and 1 student have worked in Transylvania. Possibly for a blood bank?
3 alumni have worked in Salem, Massachusetts... but for "witch" company?
1 alumni has worked in Hell, Michigan which does in fact often freeze over in January.
2 alumni have the word "zombie" in their resume, making their chance of getting hired quite undead.
185 alumni have the word "magic" in their resume. MBA Focus will not comment on whether or not this gives them an unfair advantage.
They may not all be family, but there are 52 students and alumni with the last name "Adams". Finding them in Global Focus is a snap.
116 alumni have the word "monster" in their resume. No word if there's one in their closets as well.
17 alumni have the word "pumpkin" in their resume whereas only 6 candidates do. One alumni has both the words "great" and "pumpkin" in their resume... perhaps they work in the "Peanuts" industry?
If you're still reading this, you haven't been scared away by the vast amount of talent we have to offer within Global Focus. Our unique and powerful software has all the right "tricks" to "treat" your recruiting needs right. Even if you break a mirror, walk under a ladder, and encounter a black cat on Friday the 13th, you can still get lucky and find the right fit for your company through Global Focus.
So from all of us at MBA Focus, Happy Halloween! May it be filled with chills and thrills.
To enable comments sign up for a Disqus account and enter your Disqus shortname in the Articulate node settings.