Employers demand a diverse group of MBAs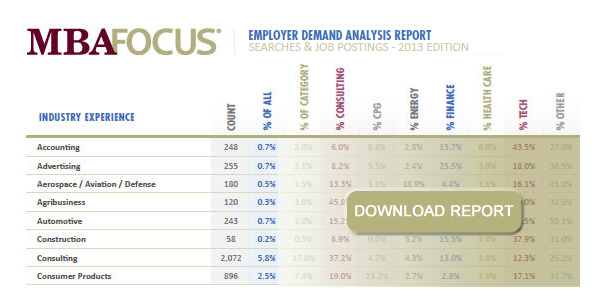 What types of business leaders are companies seeking? And what are leading MBA employers looking for on the campuses of top graduate b-schools? As the exclusive career service partner to 70+ of the world's top-ranked MBA programs and the #1 MBA recruitment tool for thousands of multinational corporations, MBA Focus offers the most comprehensive report on MBA employer demands.
The 2013 Employer Demand Analysis Report offers an in-depth summary of more than 80,000 resume database searches and job postings by the leading MBA employers in our network.
This year's report includes summary and detail information about the job postings and searches performed on a variety of functions and industries, including:
Consulting
Consumer Packaged Goods
Energy
Finance
Health Care
Tech
... and more!
Please take some time to request a copy of this report. And be sure to compare it to our Candidate Analytics Report. We are certain that you will find the analytical information enlightening—and we are hopeful that it serves as a valuable reference for your MBA recruiting and career service initiatives.
Tweetable facts from this year's Employer Demand Analysis Report:
Request a copy of this report to find more interesting tweetable facts today!
To enable comments sign up for a Disqus account and enter your Disqus shortname in the Articulate node settings.