Fluency: Your Global Passport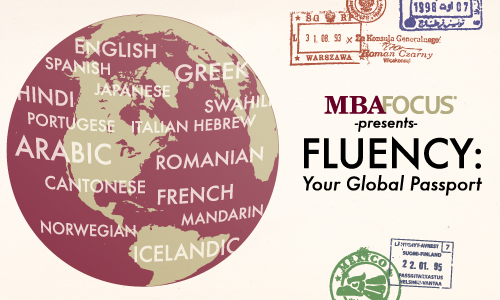 As businesses become more global in nature, foreign language proficiency is an increasingly valuable skill for employees to possess. Corporations around the world are searching for cultured, multilingual individuals who can keep up with the interconnected world economy.
According to our 2013 Employer Demand Analysis Report, there were more than 8,000 language ability searches performed across our recruitment technology during the 2012 calendar year. So what did they find? Spanish and French were the top two second languages spoken by the 80,000+ MBA students and alumni included in the 2013 Candidate Analytics Report. Mandarin and Hindi ranked 3rd and 4th for MBA students, while German ranked 3rd for alumni. Portuguese, Cantonese, Italian, Russian and Japanese also ranked in the top ten lists.
Language skills can differentiate one job candidate from another, and a multilingual individual will be seen as more prepared to deal with cross-border business activities. Some B-schools are embracing the qualities of the global economy by encouraging their students to learn another language, travel abroad, and immerse themselves in different cultures.
For example:
By graduation, every London Business School MBA student must achieve Level 2 competency in a second language. Many of their students choose to study a third, fourth or fifth language as well. As they state on their website, they "believe the experience of learning a second language is a vital part of becoming a truly global business leader."
According to INSEAD's website, their MBA program requires candidates whose native language is English to possess at least a practical knowledge of a second language at the start of the program, and that students possess a basic knowledge of a third language before graduating.
The University of Pittsburgh's Katz Graduate School of business offers an MBA/Master of International Business dual degree that requires either two years of language education or the equivalent proficiency in a second language, along with a 2-3 month internship conducted overseas in the student's designated foreign language.
Although English is the official language of the IESE MBA program, students have the opportunity to receive an MBA Bilingual Degree. First year students begin Spanish instructed classes in September, open to both those with and without previous Spanish speaking ability. Second year students are offered elective courses in English or Spanish, and have the opportunity to graduate with a bilingual degree.
The language skills acquired by MBA students will set them apart as business leaders, with the ability to further their professional relationships through cultural empathy. As quoted in the Huffington Post article Top Skills MBA Grads Need for Success, former U.S. Ambassador Curtis S. Chin says, "even if you're not fluent, the effort that you make to understand someone's culture or someone's language can only help you go further in building relationships that are so important to building a career." Multilingual abilities provide people with additional opportunities to communicate, network and ultimately improve one's performance when working in a global business environment. Additional language skills often demonstrate an individual's understanding of diversity, perspective, and the many working components of a world economy.
For more information on MBA Focus's Employer Demand Analysis Report and Candidate Analytics Report please visit our Resource Library.
To enable comments sign up for a Disqus account and enter your Disqus shortname in the Articulate node settings.