March Madness! Over Half of the 2017 NCAA Bracket Schools Partner with GradLeaders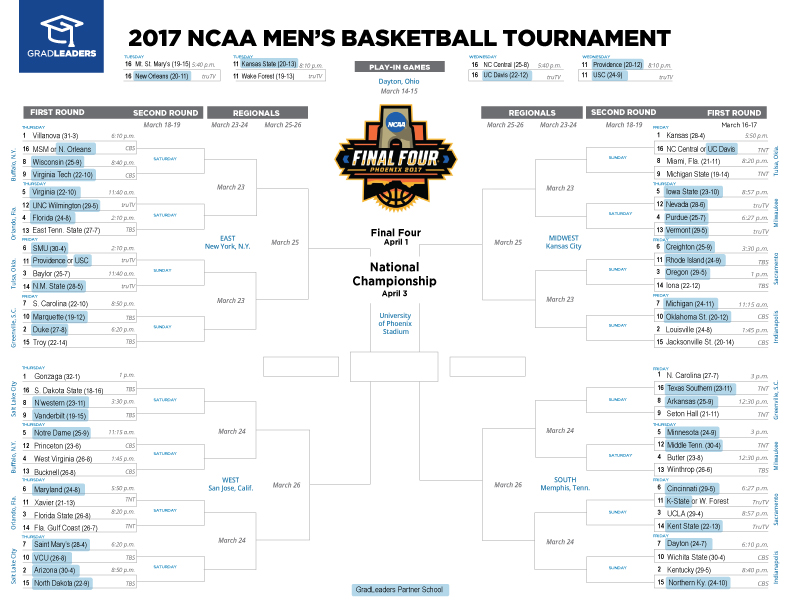 Did you know that 38 of the 68 schools in the 2017 NCAA March Madness Men's Basketball Tournament partner with GradLeaders? In fact, more than 1,000 career centers from over 750 colleges, universities and professional associations around the globe partner with GradLeaders to maximize visibility of their students to leading employers.
Sick of filling your March Madness bracket out based on mascots, team uniform colors or dream destinations?  Try filling it out only using GradLeaders school partners. Here's what it would look like.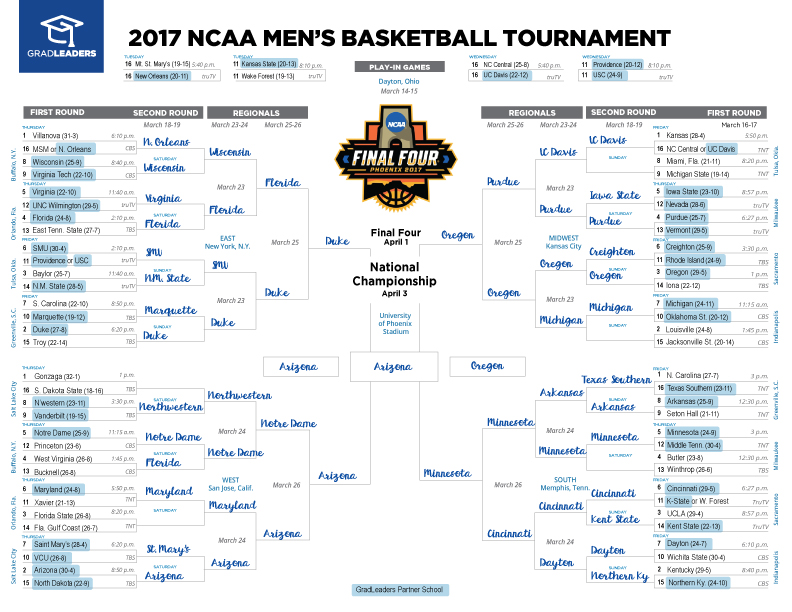 Here are the 38 schools in this year's bracket that partner with GradLeaders:
Creighton University
Duke University
Iowa State University
Kansas State University
Kent State University
Marquette University
Middle Tennessee State University
Mount Saint Mary College
New Mexico State University
Northern Kentucky University
Northwestern University
Oklahoma State University
Providence College
Purdue University
Rhode Island College
Southern Methodist University
Texas Southern University
University of Arizona
University of Arkansas
University of California, Davis
University of Cincinnati
University of Dayton
University of Florida
University of Maryland
University of Michigan
University of Minnesota
University of Nevada
University of New Orleans
University of North Carolina, Wilmington
University of North Dakota
University of Notre Dame
University of Oregon
University of Vermont
University of Virginia
University of Wisconsin
Vanderbilt University
Virginia Commonwealth University
Virginia Tech
Not only do these schools utilize our career service technology to power student and employer connections, but all 100 of the world's top 100 employers and more than 180,000 companies also use our campus recruitment tools as their #1 source of student talent.
Check out our March Madness themed breakdown of candidates in our vast network, which to date, boasts 718,030 current undergraduate students as well as 29,823 current MBA and graduate students. Of the job-seeking students in our database today:
 59,805 have March in their resume and 199 actually have the word Madness in their resume
11,850 have a geographic career preference of New York, California, Missouri, Tennessee and Arizona (locations of the Sweet 16, Elite 8 Regional Games and Final Four Championship)
3,115 have NCAA listed in their resume
1,319 have previous work experience at Siemens (the name and corporate sponsor of the trophy given to the NCAA Men's Basketball Championship winning team each year)
1,158 have basketball listed as an extracurricular activity in their profile and 264 of them were the Team Captain
546 have previous full-time or internship work experience at TNT. 486 at CBS. And 36 at TBS.
12 have the last name Wooden (renowned UCLA basketball coach and name of the award given to "The Outstanding College Basketball Player in the United States" each year)
3 have the last name Naismith (inventor of basketball and trophy given to the "College Player of the Year")
 Need an assist to place more students in their dream job? Want to improve your score on your next hire? Get the ball rolling with our easy-to-use recruitment tools for employers , employer connection tools and secondary resources for career centers, or complete career services management platform using GradLeaders.
To enable comments sign up for a Disqus account and enter your Disqus shortname in the Articulate node settings.