MBA Focus Merges With CSO Research to Build World-Leading Network for Matching Students and Employers

We have the great pleasure of announcing that MBA Focus has combined with CSO Research to create the world's leading network for matching students and employers.
We are excited because this merger allows both companies to realize our shared vision of becoming the world's leading source for all student hiring. Together, we have an unbeatable combination of leading edge technology, installed user base, exceptional customer service, industry insight, and analytical capabilities.
We will be bigger, better, and focus on providing even better systems and customer service.  Our changes will be seamless for our partners and users.  We received a major capital infusion and are now the most financially stable, ethical, and customer-service focused career services technology company in the world.
Here are some other key things about the merger:
The merger blends two companies to do more of what we do best: exceptional customer service, user-focused support, system enhancements, continuous innovation, job market and placement analysis, and corporate recruiting management tools.
Our strengths and market position are complementary.  MBA Focus is the global leader in the graduate business school market and among corporations; CSO Research is a global leader in the undergraduate market.  Combined, we are the market leader in career service software and recruitment technology, helping more students get hired and more employers find better candidates for the job.
We will now serve over 1,000 career service offices, undergraduate, and graduate schools and give more than 1,400,000 students visibility to the top 2,000 global hiring companies.
Adds 900+ partner schools and 1,400,000 students to our database, making us the go-to resource for all student hiring.
Our customer service and continued system upgrades will be seamless for our partners and users. We will be bigger, better, and focus on providing even better systems and service. 
This gives our school partners the most comprehensive, efficient, and reliable university-wide career services solution, from the only provider that has had the trust and respect of schools for two decades.
Together, we provide the largest, and most desirable, diverse, and strategically searchable student database, and the most robust, stable and innovative college recruitment management solution.
Both companies provide proprietary insights into hiring trends, recruitment efficiency and best practices through their annual Employer Demand Analysis, Candidate Analytics reports, and The Outcomes Survey®.
To view press releases about the merger, visit any of the following news outlet websites:
If you have any questions or comments about the merger, feel free to contact us.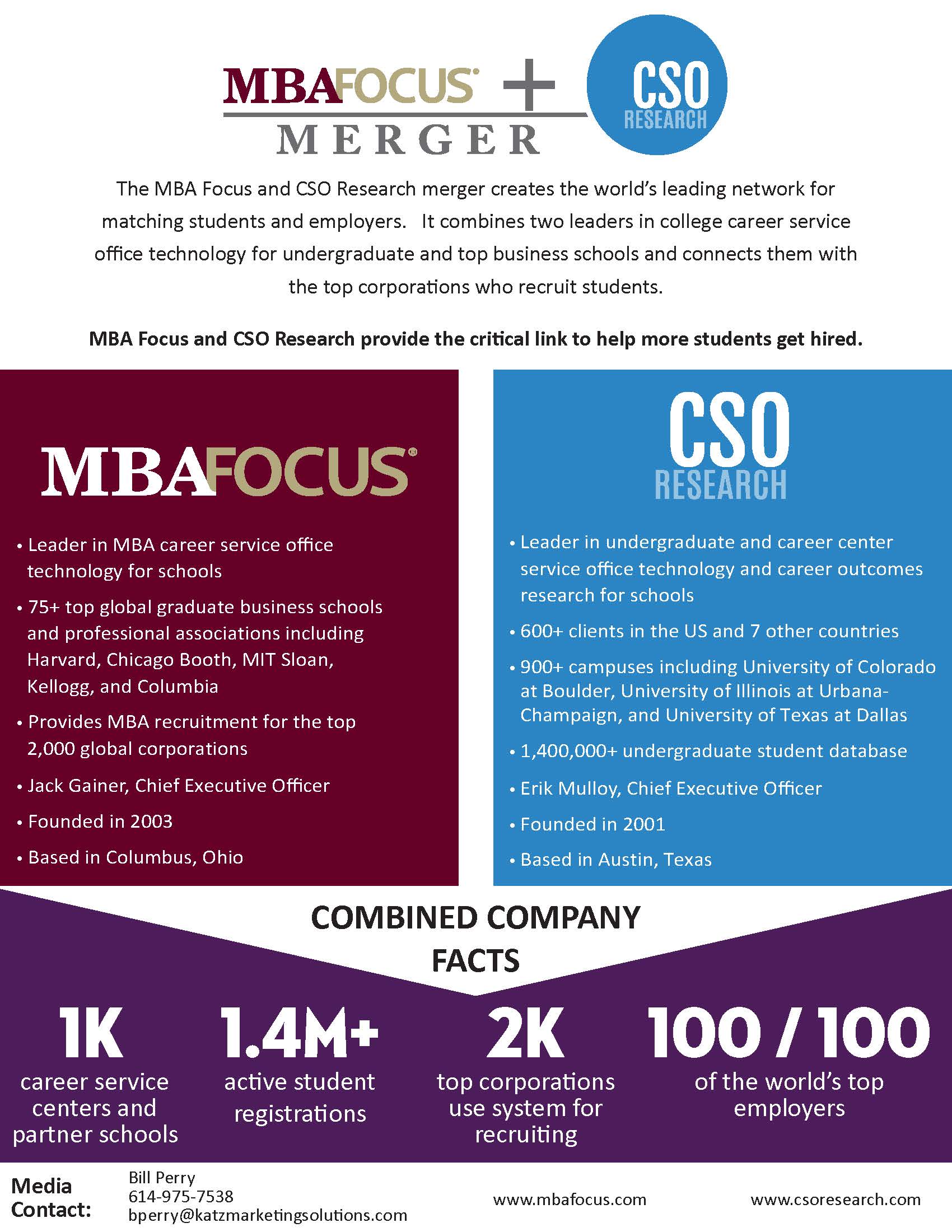 To enable comments sign up for a Disqus account and enter your Disqus shortname in the Articulate node settings.