MBA job-seeker experiences & interests to inform your recruitment strategy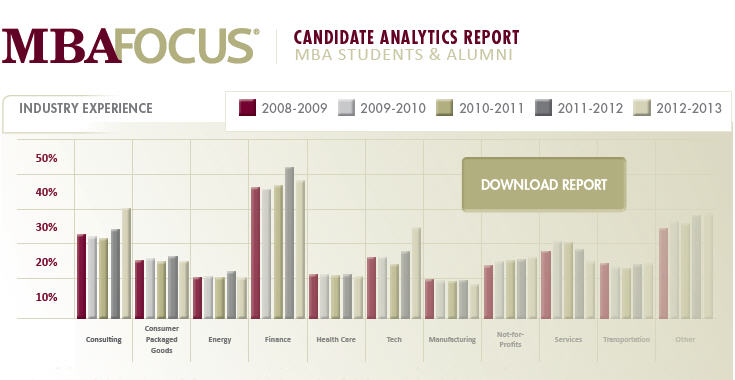 Wondering what MBAs from the world's top graduate business schools are interested in doing for a career post-graduation? Or what experiences these students had before arriving on campus? As the exclusive career services technology partner to 70+ leading graduate business schools, MBA Focus is able to deliver the most comprehensive profile of job-seeking MBA students and alumni available.
The 2013 Candidate Analytics Report contains summary and detail information on more than 80,000 MBAs—including more than 16,000 graduating students, 10,000 first-year students, and 55,000 alumni.
This year's report offers an in-depth look at the career profile demographic data for the current population of job-seeking candidates, including:
Job Function Experiences
Job Function Preferences
Industry Experiences
Industry Preferences
Geographic Preferences
Work Authorization
Club Affiliations
Language Abilities
Licenses and Certifications
... and more!
Please take some time to request a copy of this report. We are certain that you will find the analytical information useful as you plan your upcoming MBA recruiting and career service initiatives.
Tweetable facts from this year's Candidate Analytics Report:
Request a copy of this report to find more interesting tweetable facts for your industry or function.
For more information about gaining access to this top MBA talent please contact us.
To enable comments sign up for a Disqus account and enter your Disqus shortname in the Articulate node settings.