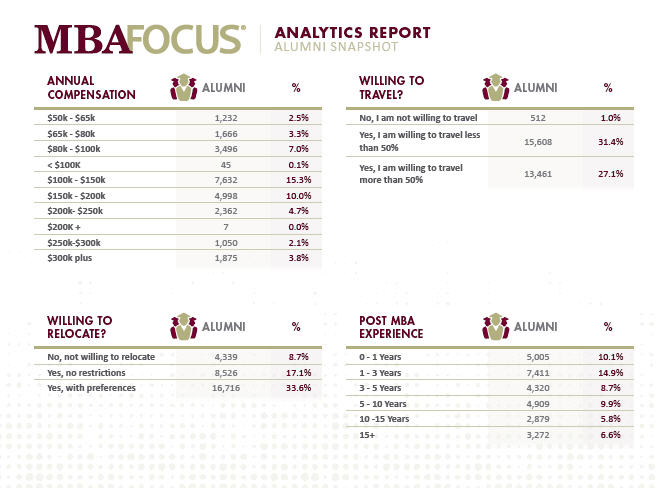 If you have an MBA from one the world's top business schools chances are you make over $100,000 per year.
In fact, more than 70% of the MBAs who graduated from our top-ranked partner schools make at least 6-figures. And 1 in 5 make more than $200,000 annually. Here is the current data:
Under $100K: 27% of MBAs
$100k - $150k: 31%
$150k - $200k: 20%
Over $200K: 22%
This data comes from the career profiles of over 50,000 MBA alumni from the our partner schools. These alumni are MBA-degree holders who've graduated from the world's top-ranked graduate business schools.
Want to more about the current demographic of MBA students and alumni? Contact us with any inquiries or connect with us on Facebook, Twitter, and LinkedIn. The team at MBA Focus has over 100 years combined experience in MBA recruiting – making us the premier thought leader and expert source for knowledge on the subject. Our expertise combined with the information in our database allows us to publish annual reports and articles on the industry. These resources offer valuable information and insight for anyone interested in the MBA recruitment process.
To enable comments sign up for a Disqus account and enter your Disqus shortname in the Articulate node settings.