The Results Are In, Everybody Wins With MBA Focus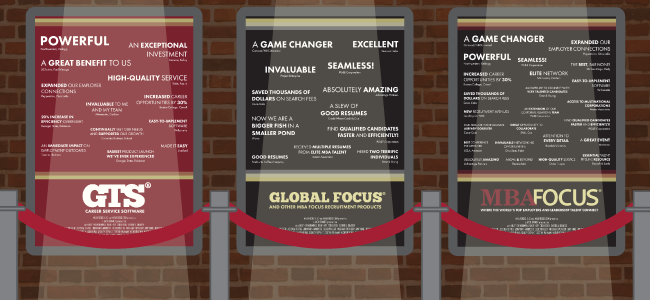 It's the awards season, and while people are passing out trophies and accolades left and right, the results are in regarding the edu-tech and e-recruitment industry. MBA Focus is the clear winner in three categories, and the users are raving:
In the recruitment technology category, Global Focus wins for allowing employers utilize search, post, and email tools to recruit vetted right-fit talent.
In the career services software category, GTS wins for giving b-schools & professional associations job boards and schedule management tools to manage the career service process.
And in the best recruitment network category, MBA Focus wins for connecting employers with top leadership talent and giving candidates innovative job search, career service, and networking tools to find their dream jobs!
But don't just take our word for it, let's hear what the critics have to say about our recruitment technology:
"When we decided to use Global Focus, it was at a time when we were very behind in our recruitment cycle for MBAs and needed a solution to give us access to a wide pool of candidates in a short timeframe. We never expected the success that we had in such a short timeframe after utilizing the tool! Not only did we attract a robust, diverse candidate slate for our rotational program, but are now able to be extremely proactive by reaching a targeted audience with the click of a button! We have been able to develop relationships with schools, students and alumni practically overnight, and continue to find additional benefits each time we use the product. This has been a game changer for our recruitment efforts of top MBAs that we would not have this level of access to otherwise." - Jennifer M. Nyiri, Comcast NBC/Universal
"The integration between the MBA Focus school & employer products has been a great benefit to us. Four of our students received offers from Apple, without participating in on-campus recruiting. In addition, our partnership with MBA Focus helped three of our students land interviews with McKinsey." - Tom Kozicki, UC Irvine, Paul Merage
"With a mission to enhance diversity in business leadership positions, we knew that MBA Focus could help us achieve this goal by acting as an extension of our corporate relations team, and providing the technology to efficiently manage the recruitment process. Our candidates are now being promoted to a larger network of MBA employers, helping us to pursue our goals and reduce the underrepresentation of African Americans, Hispanic Americans, and Native Americans in the ranks of management." - Anthony J. Davis, The Consortium
Have a raving review to share yourself? Add it in the comments below.
To enable comments sign up for a Disqus account and enter your Disqus shortname in the Articulate node settings.