Top 10 mobile apps for MBA recruiters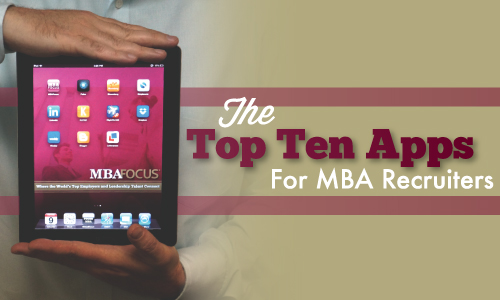 Are you a MBA recruiter with an Apple iDevice? If you are, then you are holding a powerful recruiting tool in your hand. Whether you are jotting down notes about candidates, looking for lodging and dining when you travel, giving a presentation on-campus, or just unwinding after a long day of work, here are 10 mobile apps for every MBA recruiter:
1. Bloomberg - If you want instant access to breaking financial news and want to keep an eye on the market at the same time, this is the app for you.  Unlike other stock-checking apps, Bloomberg is free and offers a simple interface and navigation.
2. Pulse - As a recruiter, you are constantly on the move from city to city and school to school.  You want to stay on top of all the news headlines from your favorite publications, but you don't want to clutter your home screen with a slew of apps.  Pulse is your solution.  It aggregates articles from all your favorite sources, RSS feeds from your reader, and even social network updates -- making it your one-stop shop to stay informed.
3. SimpleNote - Are you tired of writing important notes on pieces of paper that seemingly often get misplaced?  With SimpleNote you can write notes in your web browser on your desktop and they will push to your mobile device, and vice versa.  You can also categorize notes by different headings to help you keep your thoughts, and your life, a bit more organized.
4. TextGrabber - Ever need to scan a printed document on-the-go?  This app allows you to take a picture of a body of text and then it reproduces the photographed text as an editable text note on your device.  It also provides a powerful translating tool for your overseas recruiting trips.
5. LinkedIn - Keep up-to-date with your business connections with this mobile version of the social network.
6. Kayak - If you're a recruiter traveling to multiple business schools every fall, Kayak is the ideal travel partner.  It helps you compare the best deals on flights, hotels, rental cars, and more as specified by city.  It also lets you plan your whole itinerary for future trips.  
7. Google Maps - From satellite images from space to ground-level street views, Google Maps has the world mapped out.  This app is the perfect tool for finding your way around campus or in any city.  It also provides spoken driving directions, color-coded real-time traffic conditions, and vector-based maps (smooth at any size).  Google Maps will help you get where you are going, again and again.
8. Keynote - Have to give a presentation about your company to career services on the fly?  Keynote is the ideal presentation companion.  It allows for full customization of your presentation and some eye-catching templates to hold their attention.  It's also a remote to control your Mac presentations while on stage.
9. Flight Control - At the end of a long day of trying to land the perfect candidate, you need to unwind and have a little fun.  Flight Control is that perfect diversion.  Use your finger to guide planes to the runway for a smooth landing -- but make sure two planes don't have intersecting flight paths!
10. Global Focus - And finally, if you're looking for a better way to recruit on the campus of the world's top b-schools, try our Global Focus mobile app. The Global Focus mobile app lets you minimize the paper chase by putting the world's best talent at your fingertips. Access the resumes and profiles of candidates at our partner schools and follow-up with potential hires directly from the app.
Want more information about our mobile app for recruiters on-the-go? Visit mbafocus.com/mobile today!
To enable comments sign up for a Disqus account and enter your Disqus shortname in the Articulate node settings.