Top 10 movies for MBA career service professionals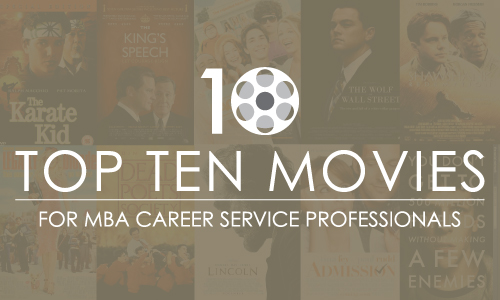 As a career service professional, you are charged with a pretty important responsibility.  The employment hopes and dreams of your school's graduate students rest in your hands.  The role requires patience, guidance, mentoring, and sometimes a whole lot of luck.  Once you get through the career services workshops, finish Fall recruiting season, and help the students compare possible career paths...it's time to relax, grab some popcorn, and remember that you have made a measurable difference in so many students' lives.  
Here are ten films about mentoring, careers, management, and leadership, that we believe every career service professional should see (and 10 others for MBAs and recruiters as well):  
1.  A classic underdog story, The Karate Kid details the life of a bullied boy named Daniel who becomes mentored by a wizened, elder karate master, Mr. Miyagi, who teaches Daniel that the secret to karate lies in the mind and heart...not in the hands.  We could "wax on" for hours about Mr. Miyagi's mentoring methods and wisdom.  
2.  The King's Speech is the story of newly crowned King George VI, his speech impediment, and the speech therapist that helps him find his voice.  This movie perfectly details how effective the right guidance can be in bringing out what was there all along.  
3.  What happens if you don't get accepted?  If you're like the guys in this comedy, you create your own destiny.  Accepted centers around the mishaps of the students attending a fake college, the South Harmon Institute of Technology, as they fight for accreditation as a legitimate college.  This movie serves as an example of why admissions is just the first step in the process of shaping students into successful businesspeople.          
4. If nothing else, Martin Scorsese's raunchy film The Wolf of Wall Street is thoroughly entertaining thanks to two Oscar-worthy performances: Leonardo DiCaprio as a Wall Street golden boy (based on the infamous 1980s stockbroker Jordan Belfort, and his sidekick Donnie Azoff (based on real-life sidekick Danny Porush) played by Jonah Hill.   
5.  The Shawshank Redemption focuses on the friendship between a falsely convicted inmate named Andy Dufresne and a justly convicted one named Red Ellis.  Red acts as mentor to Andy, providing him with the tools not only to survive in prison, but also to succeed in life outside those walls.  
6.  Legally Blonde features the struggle of a sorority girl who attempts to win back her ex-boyfriend by earning a law degree.  It's a story about how the most unlikely of people can sometimes do the most amazing things.  
7.  Dead Poets Society is a film about an English teacher at a prestigious boys' school who inspires his students through the teaching of poetry and the re-establishment of a literary club who secretly meet in a cave.  This movie goes to show the wonder and imagination good leadership can have on students.  
8.  Lincoln covers the final four months of the famed 16th President's life, with an emphasis on his efforts to pass the thirteenth amendment and forever abolish slavery.  It's a story not only about leadership, but also determination, creativity, and persuasion, traits that every MBA student today must have.  
9.  Admission is a feel good rom-com about a college admissions officer, a son she may meet for the first time, and a man who just might be admitted into her heart.  This movie about the Princeton University admissions office is sure to hit close to home.  
10.  Although it is now as ubiquitous as actual books and faces, The Social Network chronicles the first several years of our favorite workday distraction and its stubborn and eccentric inventor. It's a story that proves you shouldn't always judge a book by its cover. We promise, you'll "Like" it.  
Did we forget one? Add it in the comments below:
To enable comments sign up for a Disqus account and enter your Disqus shortname in the Articulate node settings.