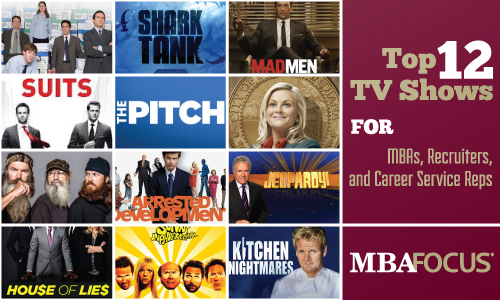 While TV shows are generally over the top versions of real life scenarios, or simply unrealistic, there can be more to gain than entertainment value from the dramas and comedies on TV. Beyond the scope of the evening news and economic debates, there exist valuable lessons from even the simplest of sitcoms.
If you're going to lounge on your couch, you might as well be inspired and encouraged by the innovation, leadership qualities, creativity and business practices that exist on your TV screen or iPad. Other times, we observe the mistakes and absurdities of our favorite characters that teach us what not to do. These takeaways can be applied everywhere from the classroom to corporate headquarters.
No matter your role in the MBA recruiting industry, the following 12 TV shows have thought provoking takeaways for your professional life, as well as a few laughs:
1. The Office: This mockumentary is about a seemingly boring office environment at Dunder Mifflin Paper Company. These idiosyncratic office employees navigate their way through office politics with sabotage, humor, pranks, and romance. The Office reminds us of how leadership and ethics can influence the entire hierarchy of an office's culture, as well as the success of the business.
2. Shark Tank: This reality TV show features entrepreneurs pitching business ideas to several potential investors, otherwise known as "sharks". The show portrays a similar interaction that might occur during a pitch meeting, and in doing so, illustrates how a short conversation can make or break the future of a business relationship.
3. Mad Men: Set in the 1960s, Mad Men is about a prestigious advertising agency in New York City. Dysfunctional, yet successful, this drama demonstrates both good and bad business practices. Mad Men shows the importance of picking the right business partners, how (and how not) to handle clients, the opportunities that come with growth, the power of networking and the importance of diversity.
4. Suits: Suits is an example of a risk gone well. Mike Ross and Harvey Specter prove to be an invaluable duo to their legal firm in this TV drama, with a balance of personalities and a unique set of talents. Tired of typical law school grads, Harvey takes a gamble and hires Mike, who is brilliant yet inexperienced. Suits can teach us that recruitment isn't only about hard skills and specific abilities. It's important to remember that soft skills can be equally important during the interview process.
5. The Pitch: Marketing has become the 3rd most popular functional preference amongst job-seeking MBAs, and no show better depicts a career in a real-life marketing department than this unscripted reality TV version of Mad Men, where creative ad agencies compete to pitch a new account.
6. Parks and Recreation: This mockumentary is about the Parks and Recreation Department of a fictional town in Indiana. This government branch is full of a range of personalities, humor, and occasional drama. Leslie Knope, the main character, maintains a positive attitude around the clock and is constantly aiming for her dreams. Although Pawnee's politics put a damper on projects and campaigns, Leslie Knope never loses her sense of optimism, her respect for her staff, or her focus on the end goal.
7. Duck Dynasty: Duck Dynasty is a reality series about a Louisiana family that operates a thriving business while staying true to their modest lifestyle and close-knit family. Practical, simple and witty, the Robertson family has made millions off of duck calls. This show teaches us that where there is great chemistry, there is great success. They kept their business plan simple, stuck to what they did best and worked well together.
8. Arrested Development: The Bluth Family Business is more of an example of how not to behave or run a business. George Bluth, corrupt CEO and eventual prisoner, leaves the state of the company in a mess and his family is left to clean up the disaster. A comedic version of corporate scandal, Arrested Development is an example of the financial ruin that follows poor planning and a web of lies. Perhaps the biggest piece of advice we can take from Arrested Development is that there's always money in the banana stand. In other words, keep an emergency fund.
9. Jeopardy: One of the most popular and well known quiz shows, Jeopardy can teach you that it is always important to strategize each decision along the way to a final outcome. There is a balance between action and no action, and risks must be weighed appropriately. Two people may be equally intelligent, but it's their choices that lead to a win.
10. House of Lies: Although there has been a recent functional preference shift away from consulting & finance, a majority of MBAs are still interested in those traditional MBA career paths. This dramedy, based on the book House of Lies: How Management Consultants Steal Your Watch and Then Tell You the Time, is a cynical satire on the state of American big business, full of enlightening lessons on the ugly side of corporate culture.
11. It's Always Sunny in Philadelphia: This series follows a group of selfish, greedy and ignorant friends who run an Irish bar in Philadelphia. Full of poor ethics, lazy behavior and manipulation, "The Gang" does a fairly awful job at running Patty's Pub. However, these irresponsible characters see the opportunity in everything and they are never discouraged by failure. Success rarely comes easy and opportunity is around every corner.
12. Kitchen Nightmares: In this reality show, Chef Gordon Ramsay is invited by struggling restaurant owners to repair their failing businesses. This show teaches us that it's good to identify problem areas and embrace change. No student or company is perfect, and there is always room for improvement. It's imperative to continue learning and continue working on relationships. Sometimes it helps to get a fresh outlook from an outsider for a new perspective on how to do business.
Did we miss any? If so, add them in the comments below.
To enable comments sign up for a Disqus account and enter your Disqus shortname in the Articulate node settings.