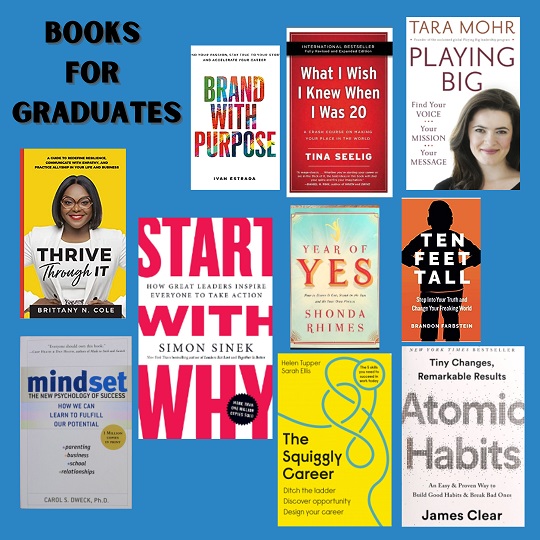 Post Originally appeared in July 2020 and has been Revised August 2023 to reflect more diverse perspectives and contemporary post-pandemic advice and best practices
The perfect time to read and improve yourself is ANYTIME! By reflecting on your experiences, emotions, goals, as well as future, you can better prepare for a life of success. We have curated a list of books from a bench of authors from a wide range of backgrounds and hope you can garner some fresh ideas and inspiration.  Take some time to understand your own tendencies and listen to the advice of these extraordinarily successful people to learn, grow, and live your best life.   
Ten Feet Tall: Step Into Your Truth and Change Your Freaking World

 

by Brandon Farbstein

–

Dreaming and living big starts with having a grand mindset. The author who stands under four feet, inspires with his larger-than-life mentality to thrive no matter what limitations you encounter. A TEDx speaker and author, Brandon explains how he leaned into his truth to make a maximum impact in life and shares tips for how you can do the same. 

Playing Big: Find Your Voice, Your Mission, Your Message

by Tara Mohr

–

The author is a leadership coach and conference keynote speaker with expertise helping women own their power and take up space. With best practices for "playing bigger," Mohr teaches how to shut down imposter syndrome, unlearn societal taught limiting behaviors and live more boldly in their personal and professional lives. 

Start with Why

 

by Simon Sinek-

 

The core theme of this book centers on identifying your purpose. All decisions, actions and outcomes should start with your "Why." Sinek highlights some remarkable individuals such as Martin Luther King and Steve Jobs and illuminates how their purpose drove their actions and impacted outcomes. 

Thrive Through It by Brittany Cole-

Cole writes about resilience during constant change and challenging circumstances. With a focus on emotional intelligence, open communication, advocacy and allyship all while shaking off masks and perfectionism, the author describes how you can learn and grow through differences and challenges. 

 

Mindset: The New Psychology of Success 

by Carol Dweck- 

Your mind is the most powerful asset you have if you use it correctly. This book teaches you how to alter your mindset, change your beliefs, and train your thinking in order to grow and flourish in life. 

 

The Squiggly Career 

by Helen Tupper and Sarah Ellis- Gone are the days of linear career paths with success defined by the ladder height achieved. On average, early career navigators spend 2.8 years in a role before making a transition, often to a new company. Tupper and Ellis share five skills to ensure a fulfilling career journey despite ambiguity and frequent change. 

Atomic Habits 

by James Clear-

 

You have heard the expression "it's the small things that count." That's absolutely true in life generally, but also when shaping routines. Clear provides a framework for incremental daily improvements to build healthy routines and eliminate bad habits. Based on psychology, biology and neuroscience, the author's recommended system enables sustainable change.

 

What I Wish I Knew When I was 20 

by Tina Selig- Selig is the hugely popular head of Stanford University's Technology Ventures Program and helps to usher new graduates from the world of academia to the work of work. She provides tangible and actionable skills and insights to carve out a successful personal and professional life. Using her own stories as well as those from others, Selig illustrates that there is no straight forward path or singular way to live a happy and rewarding life. 

Brand With Purpose b

y Ivan Estrada-

As a Latino, LQBTQ individual from a middle-class background, Estrada shares how he leaned into his childhood enterprising spirit to become a top earning real estate broker and world-class entrepreneur. With a focus on building a personal brand, the author uses cases studies and stories from other successful trailblazers to demonstrate the art of the possible while also providing self-reflection tips to guide the reader through their growth journey. 

Year of Yes 

by Shonda Rhimes- Even a hugely successful Hollywood writer and producer struggled with imposter syndrome, fear and panic attacks which led her to shut herself down to opportunities. It took her sister admonishing that Shonda never said yes to anything to change her perspective. An admitted introvert, Shonda, found a way to power through her fears and embrace new experiences. Saying yes for Shonda was no indiscriminate, at a time when so many women are finally learning to say no to things that do not serve them. Rather, the "Year of Yes" was all about saying yes to things that made her feel alive. Her story provides inspiration to anyone wanting to live a richer, more vibrant life. 
What other personal and professional development books have you loved? Let us know in the comments below!