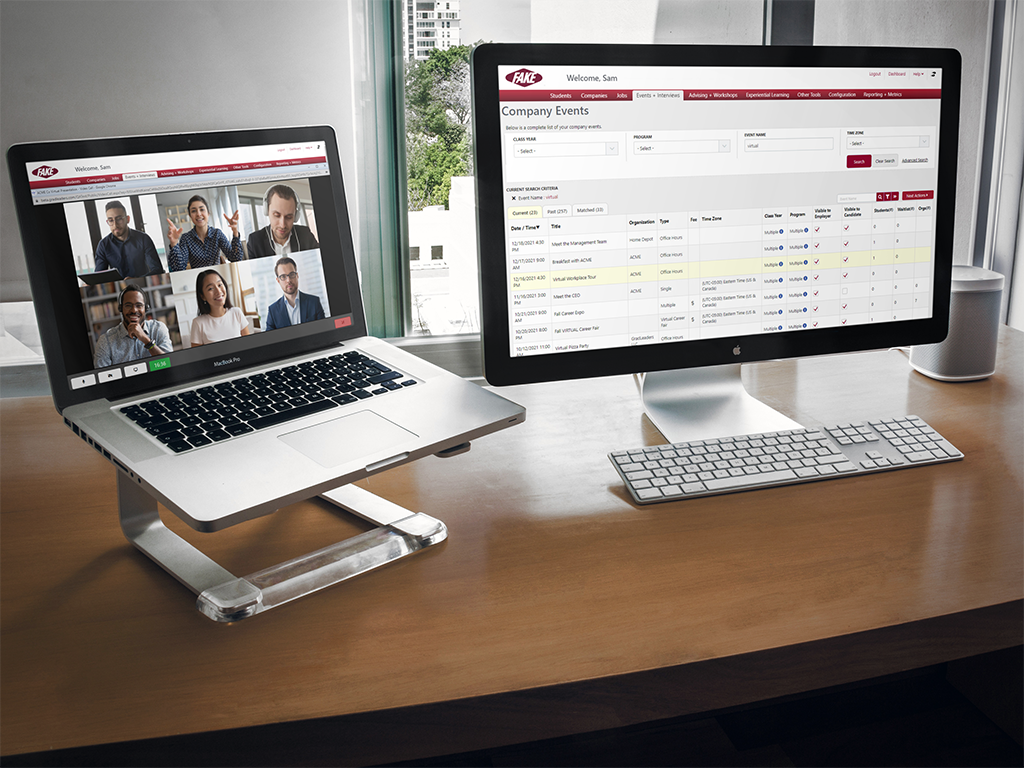 Virtual recruiting, employment branding, and hiring events can help your company attract top talent and evaluate candidates. These virtual events not only let you assess a candidate's soft skills but also allow you to judge their suitability for your company before hiring them. Once you understand if they're the right fit, these events also allow you to better prepare them for the day-to-day experience and help them understand the company culture. Here is a list of creative virtual recruiting event ideas to help your company discover top talent.  
Virtual Networking Mixer 
Hosting a virtual mixer is a great way to meet candidates before they're hired. This is an opportunity to create a casual experience that isn't centered around work conversations. This event can be hosted through Zoom, Teams, GradLeaders Connect or other video meeting solutions with multiple links or groups, so candidates have the chance to talk to multiple people in a more personal setting.  
Virtual Presentations 
Invite candidates to a virtual presentation led by your company's industry leaders, executive team members, hiring managers or peers. For campus recruiting, strongly consider utilizing alumni from the target candidates' school. Use the time to share interesting information about your company, the mission of your business, and industry trends to expand a candidate's knowledge on the industry and teach them how your company competes among others.
Virtual Office Tour 
Since many companies continue to work virtually, it may not be possible to give your candidates an in-person office tour. Instead, take them on a virtual office tour to give them a better understanding of your company culture and show them what a typical day would look like in the office.  Take advantage of this time to highlight any unique benefits or shared spaces in your building.
Virtual Workshops 
Some of the most attended events an employer can offer is a career development workshop to help candidates with their job search. Offer resume writing courses, networking advice, skill-building exercises, or other best practices unique to your business or industry.   
Virtual Coffee Chats, Pizza Parties, or Happy Hours
Invite candidates to virtual coffee chats in the mornings or virtual pizza parties in the evening. If your target candidates are of age, you could even host virtual happy hours. Send candidates a gift card through email to a local coffee shop, brewery, winery or pizza place so they can enjoy it over your Zoom event. These events are lighthearted and create a more personal experience where candidates can socialize with employees. 
Virtual Meet-and-Greet or Q&A with Your CEO 
Host a meet-and-greet with the company's CEO or other C-suite executives through Zoom, Teams, Facetime, or GradLeaders Connect. Have the CEO and/or other executives share their professional background that led them to where they are now and explain the company history. Allow the candidates to introduce themselves and ask questions at the end.  
Friendly Skills Competition or Hackathon
Create a competition for candidates to apply their skills and show their style. Recruitment competition is perfect if you're looking for a specific skill set and it's a great way to bring out the best talent. You can have candidates submit videos and projects or do live presentations. This gives insight into how candidates perform under pressure and brings out their competitive side.  
Competitor Research Project 
Another project-based event is to create an assignment for candidates and new hires that focuses on your competitors. Assign them to come up with a comparison list of strengths and weaknesses between your company and your top competitors. Then, have them come up with new ideas on how your company can be the best in the industry. This project utilizes what your candidates already know about your competitors from their personal experiences and shows the depth of their research skills.  Plus it gives you a chance to get an outsider's opinion and new perspective on your business.
Have other ideas? Post them in the comments below:
Looking for other ideas? We'd love to chat or connect you with the employers in our network! Contact us today.
Need a tool to host your own virtual recruiting events? Schedule a demo of our GradLeaders Connect platform.