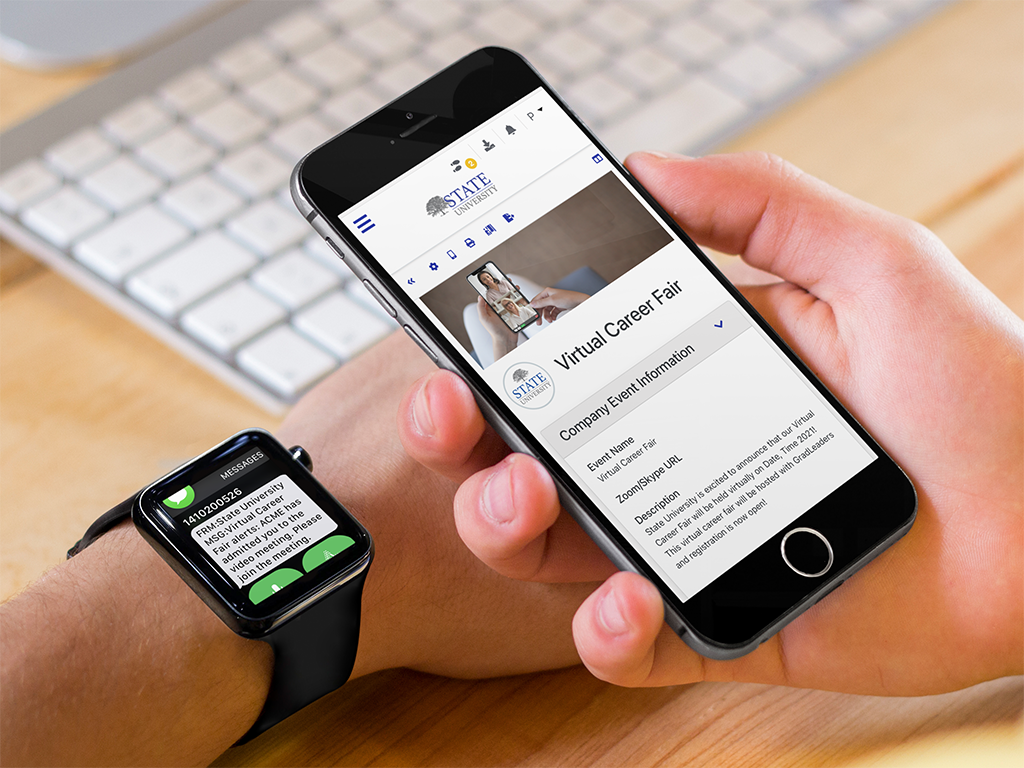 The #1 reason career fairs fail is lack of participation. Promoting your career fair, whether it's virtual or in-person, is critical to increasing attendance and maximizing ROI for your event. In order to have satisfied participants, you have to have enough students to fill employers booths and enough booths for every type of job-seeking student. GradLeaders has identified multiple effective strategies to advance your marketing efforts for your next career fair.  
Easy Online Registration  
Enabling a simple registration process makes it quick and easy to sign up for your event. Make sure it's mobile-friendly so students and employers can register on-the-go and when it's most convenient for them.  And if you already know things about registrants, like name, email or other contact info, don't make them fill it in again!
Make It Accessible
70% of major universities have poor website accessibility. Don't let your virtual career fair landing page, registration system or hosting platform fall short too. At GradLeaders, we're trying to remove barriers so students and employers can access resources like these with ease so both the student and employer portals are compliant with Section 508 and WCAG 2.1 accessibility standards.
Posting Public Links to Registration on Website 
Make registration public on your website so it's easily findable.  Provide detailed information about the event including dates and times, who the event is for, instructions on how to register, deadlines, and tips to prepare. This will encourage people who might be browsing your site for other career resources to sign up for the event.  
Mass Email Marketing 
Email marketing is a great way to connect with your target audience. Search your contact list for only right-fit attendees and then create separate customized messages to students and employers. Email is also a great way to deliver more information about your career fair, so they don't have to search for it on their own. Download our email templates that schools can send before, during, and after the event. 
SMS Text Messaging 
Text message marketing is another great way to reach your target audience in a personalized manner. Find students who haven't expressed interest yet and send them short text messages. You can also send reminders, links to registration, and ask for feedback via text. GradLeaders makes this as easy as possible for our school partners with our integrated SMS text messaging tools.  
Automated Reminders for Virtual Career Fairs
Take advantage of technology that sends automated reminders to students when it's their turn to meet with an employer.  GradLeaders Virtual Career Fair platform sends  reminders via text/SMS and in-app notifications when they're next in line with an employer and when they employer is ready to meet with them.. This is a simple technique to help those who have a busy schedule filled with multiple meetings. This also reduces the number of no-shows.  
Advertise on Social Media 
Social media is a great way to inform the public of your upcoming event. Schools should post well in advance of the event so people have plenty of time to prepare. Schools should be posting on all social media channels frequently and use hashtags to get the event trending. Having more content and hashtags surrounding your event will increase excitement and later increase attendance.  
Post Physical Signage   
Even if your event is virtual, it's still a good idea to post signs and flyers around campus to raise awareness. Heavy traffic areas around libraries and cafeterias are great places to catch students' attention.  
Post Online
There are also multiple sites that allow you to post your event on their website to expand your reach. Check out these sites and consider promoting your event a step further. 
https://jobfairsin.com/submit-your-event/  
https://www.eventbrite.com/l/post-events/  
https://www.youreventfree.com/  
Within the GradLeaders system, our partner schools are able to promote their career fair through multiple strategies including many of those mentioned above. Need help hosting or promoting your next career fair? Don't hesitate to contact us. We'd love to help!