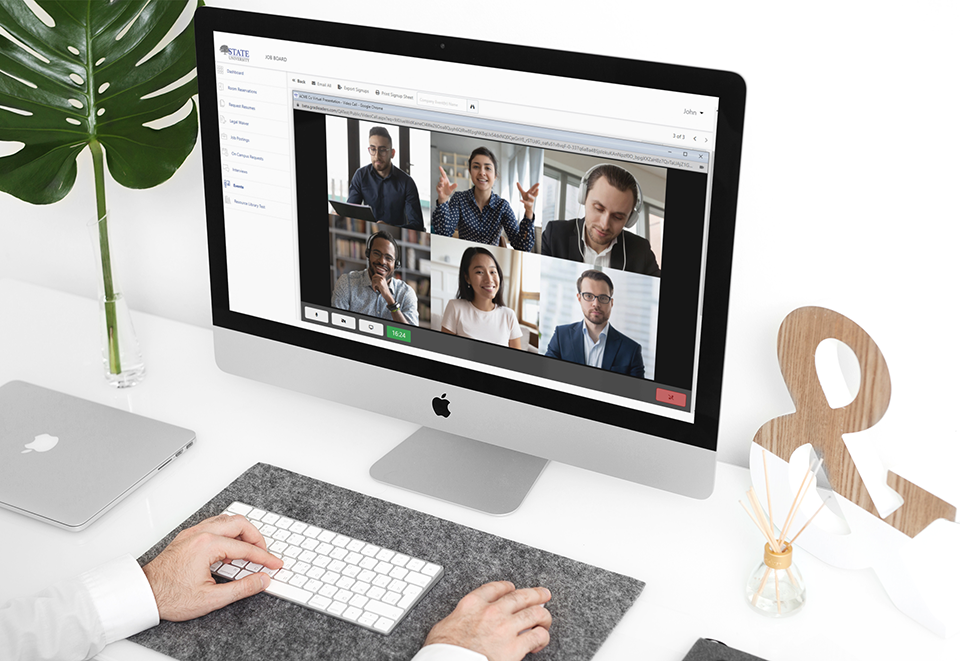 Managing the logistics of having multiple employers virtually present to multiple students at the same time can be difficult. But not with GradLeaders!
Our new fully-embedded video meeting solutions right within GradLeaders Career Center –  along with the ability to use existing video meeting technology – make it easy to create, promote, manage, host, and track student attendance on multiple company events at the same time.
With GradLeaders new virtual career services solutions, schools can:
Simultaneously host virtual company presentations, office hours, coffee chats, meet-and-greets, info sessions, and more
Give employers the ability to use their existing video meeting solution or use your fully-embedded, school-branded solution
Offer students an easy-to-use video meeting solution right within the same career center platform they already use to search jobs, sign up for advising appointment, register for career fairs, and more
Allow users to share their screens and present other parts of your career center platform during the meeting i.e. highlighting active job postings, demonstrating sign ups, or reviewing other career service resources available within your platform
Give users the flexibility to use their computer webcams or mobile device for video meetings
Easily track engagement activity and compare to other data points in their system
While other vendors are just providing links to Zoom, Skype, Teams, etc. within their platform, our solution is built right into GradLeaders. If a company wants to use their existing technology, they still can! But with the GradLeaders solution, you've got everyone interacting with the same secure, school-branded platform built specifically for career services and student recruitment. Plus it eliminates the hassle of multiple technologies and multiple platforms.
Need help this Fall? We're here to not only offer software solutions but also share best practice advice we've heard from our other school partners and employer network. Contact us today!