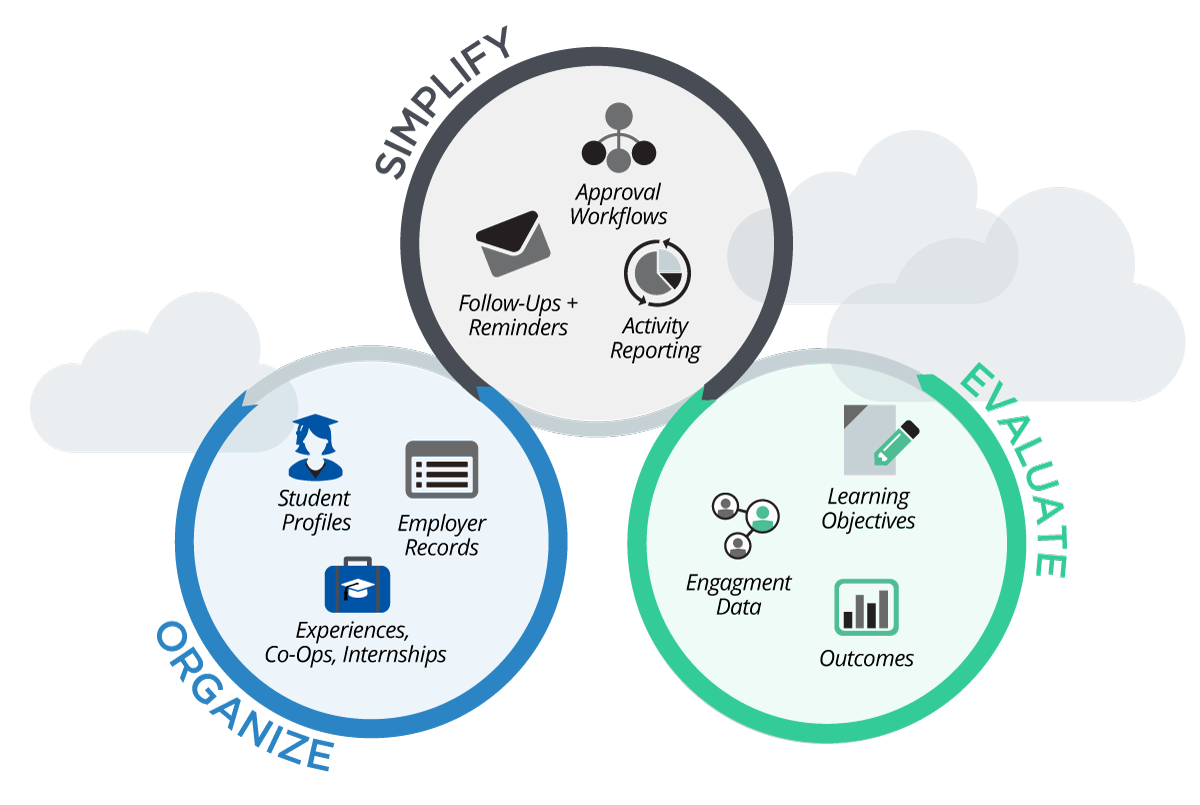 Are you still using spreadsheets, or worse, paper signatures to manage approvals then keep track of internships and co-ops? Like everything, technology can make your life easier by automating your experiential learning program so you can efficiently manage each and every stage of your process then spend more time doing what you love about your job. By converting to a virtual platform, you can save yourself, your students, and your employers valuable time. 
Here are the 10 ways to automate your internship/co-op program with the aid of technology:  
Provide students, employers, and staff a single platform with one login for everything co-op and internship related. 

Store 

all related data in one place including internship records, student profiles and employer notes.

 

Give students the ability to f

ind and apply to 

experiential learning 

opportunities

 online just like any other job board

.

 

Grant 

students

 access to see what co-ops and internships they've applied to and the status of those applications.

 

Automatically assign and connect 

your co-op and internship managers to students

 virtually

.

 

Create customized approval workflows for students, staff and company supervisors that automates the collection of signatures in the correct order.

 

Track and automatically remind your students, employers and staff of key

 

deadlines for each stage of the process.

 

Set up 

evaluation

 surveys for an entire academic year including mid-term and final end-of-term surveys for both students and employers.

 

Simplify communications with students, employers and staff using built in email, text or in-app announcement tools. 

Slice, dice and export all data on co-op and internship activity to share KPI 

reports with key stakeholders.

 
With GradLeaders, organizing and evaluating your experiential learning program has never been easier. 
"If you are using a paper format for your Learning Agreement Forms, you need to change to the GradLeaders right away," said Toby J. White, Director, Experiential Education, Center for Applied Learning at SUNY Potsdam. "This was by far one of the best decisions I made as an administrator in an Experiential Education Program. The support during the conversion was outstanding and they helped me to create my Internship Module to fit my needs here at SUNY Potsdam! Employers, faculty/staff and more importantly, students, have just raved about the Internship Module! What are you waiting for, get GradLeaders Co-Op Internship Module today!"
Centralize all your internship, co-op, and experiential learning-related activities today with GradLeaders. Learn more.