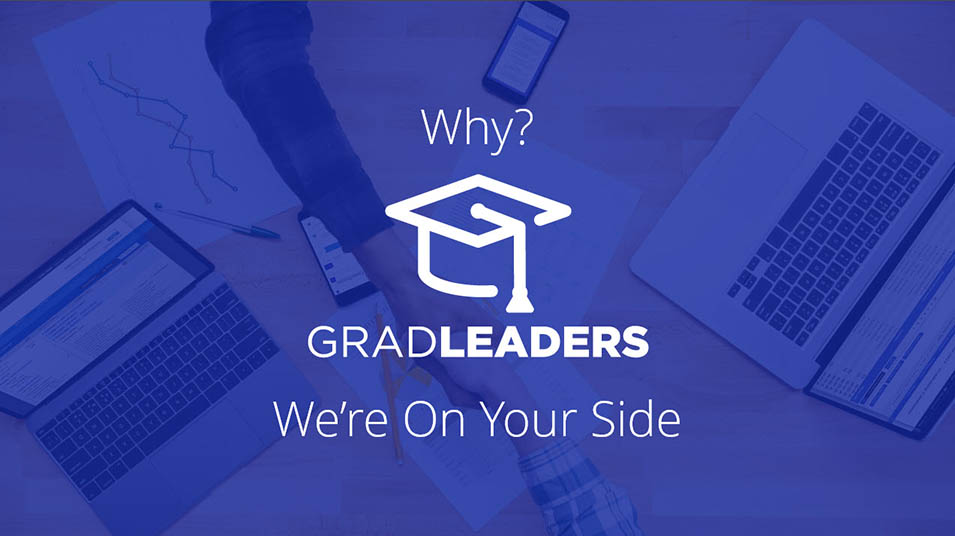 There are two big problems in our industry today. 75% of employers say college graduates are not "up to the job" and lack the skills they need to be successful in the world of work (SHRM). While at the same time, students are paying an average of $20,000 per year for college tuition and yet only 22% of current students take advantage of career services — arguably the most important office and valuable resource on a college campus today.  
At GradLeaders, we believe there is a better way to connect students and employers that goes beyond simply matching a job posting to a resume. There is a better way for employers to "REACH" more right-fit students and hire happier, long-term employees. And there is a better way for students to "LAUNCH" their careers and help them make a more successful transition to the next chapter of their lives.   
Experiential learning is a key piece of this process.  Internships, co-ops and other experiential learning opportunities give students a chance to find out what they like to do, learn what they're good at it, and see if they're a good fit for that role at that company. Plus, students with an internship or co-op experience on their resume are 20% more likely to get an offer than students without such an experience. Students who participate in an internship or co-op also make, on average, a salary 20% higher than students who do not. Knowing this is one thing. But building and delivering a meaningful internship experience is another.
Technology can help. But even GradLeaders, a technology provider, believes that humans are critical to this process as well. Career services platforms, job boards, and recruitment technology should enhance the process – not replace them.  We worry that today's career practitioners are soon to become the next outsourced service on campus like the university bookstore or in-house food services. Similarly, even IBM's Watson cannot perform the critical soft skill and cultural fit evaluations on candidates that recruiters, hiring managers and other talent acquisition professionals can.  At the same time, Gen Z and Millennials expect to be using technology – and even more so, expect to be using their phones today. And in the post-COVID world, you must be prepared to do everything virtually. 
One of the biggest differentiators of GradLeaders is that we truly are partners with schools and employers working toward a mutual goal of helping students make the transition to life "after college."  We believe that technology should make life easier and give you more time to do what you love about your job – not replace you. We sincerely want to help students make a seamless transition to the next phase of their lives , not monetize their profiles, resumes and data. We are here to help career services' practitioners and recruiters excel.  To accomplish this ROI is key.  Everyone reports to someone. And everyone has goals to hit.  
ROI for career services needs to prove the value of the degree and the cost of the education was worth the investment of both time and money. Nearly three-quarters of college presidents (72 percent) are either very or somewhat concerned about a "perceived decrease in the value of higher education" (InsideHigherEd).  Calculating the ROI can be very difficult, but it can be done!  
"The most common way to measure a college's return-on-investment (ROI) is to look at the percent of students securing employment after graduation, and then review their average salaries. But a return on a college education is more than just a 4-year vocational exercise. Great colleges produce happy and successful alumni–who give back in droves" (Forbes).   To create grateful grads like these schools and to prove ROI, data is critical. Career centers must not only own their data, but also be able to analyze and utilize this data. With GradLeaders, we simplify this process and make it easy with at-a-glance reporting that is easy to understand, share and align with institutional goals.  
For employers, the ROI of hiring college grads centers on the ability to find "right-fit" talent for your organization who become happy, effective, results-producing, long-term employees. "A cost-benefit analysis is a foolproof way to evaluate a new hire: human is the key word here. As an employer, you know an employee's ability to help or hurt the company goes beyond their ability to perform. Their work ethic, compatibility with other team members, and other personality traits are factors that could either positively or negatively contribute to their value as a hire, but these are nearly impossible to quantify" (Zenefits). 
To increase ROI, diversity is critical. For career centers, this means having more diverse internships and job opportunities for students. The more opportunities for students to experience diverse career paths with various employers in multiple functions, industries and locations the better. But they must all be realistic opportunities for your students. Most employers today already have diversity initiatives, but beyond the traditional definition of employers seeking candidates with inherent diversity, employers must also seek to hire candidates with acquired diversity including talent pools with more diverse curriculum, geographic regions, varied admissions practices, neurodiversity, or military backgrounds. To truly diversify your team, employers must recruit beyond their core schools and job boards they typically hire from.  
Our white-labeled technology is more than just at transactional job board.  It's a transformational platform to help schools better prepare students and help them "LAUNCH" careers while helping employers "REACH" more right-fit students. For schools, our GradLeaders Career Center platform is a robust, configurable, end-to-end career service management system that supports everything from advising and workshops to career fairs, experiential learning, outcomes reporting and more. It is a unique system for every unique student and program. No two students have the same apps on their phone today, why should every student have the same generic career development plan? For employers, our GradLeaders Recruiting tool is a quick and easy way to advertise employment branding, source candidates, and hire right-fit talent. And our Intern Management System makes it easy to onboard and develop talent. Plus, every one of our tools includes advanced ROI reporting on key measurables.  
With over 30 years of experience in this industry, we truly are the experts. We have been innovating and leading the evolution of our industry since before the internet existed. We were the first to go mobile, first to go accessible, first to create an internship workflow automation module, first to create a globally focused searchable resume database, first to create a MultiPost job distribution tool, first to fully embed virtual communication technology into every step of the process, first to launch an Alexa skill specifically for job-seeking students, and so much more. But we did not do any of this by ourselves. Every new feature and every product we have ever launched has been in partnership with our school and employer users.  
We truly are on your side. Don't just take our word for it…  
"We've been partnered with GradLeaders for nearly 25 years and have always had great support from their team," said Todd Reeves, Director, Office of Engineering Professional Practice at the University of Tennessee, Knoxville. "With GradLeaders, we've been able to reach out to employers and students to encourage them to engage through a school-branded platform where we are able to manage all aspects of our engineering cooperative education program. I think GradLeaders additionally, enables us to maintain a better partnership-oriented relationship with our individual employers. When students are interacting with those employers in our GradLeaders system, they're able to respond to opportunities that are being promoted directly to them, instead of competing with students all over the country like other platforms. So, from our perspective, GradLeaders enables a more focused engagement between the employer, our students, and our Tickle College of Engineering."   
"With GradLeaders you're able to target specific talent," said Sean Strachan, the Global University Talent & Programs Manager at Envista. "Whether you're looking for specific years of experience, industry preference, or people only located in specific geographic areas, GradLeaders can help. Being able to target the ideal background we're looking for has been really helpful. Another thing I've noticed about GradLeaders is they actually have a relationship aspect. I've used other software companies but there really wasn't the customer relationship management team that GradLeaders has. They really know who you are as an individual and as a company and they've been really helpful along the way. They're constantly doing new innovative things and I've been really impressed." 
"My school has been with GradLeaders for 13 years," said Shakira Rhoads, Assistant Director of Career Services at Missouri Southern State University. "I receive around 100 phone calls a semester from competing products and I have definitely stuck with GradLeaders for a reason. In my opinion it's the most customizable platform out there. You can really build and control the system to do whatever you need it to do. With other platforms you can't even change your name or anything on it and your forced to adapt to what the platform has to offer. So, the flexibility and the adaptability of the GradLeaders system is really great because you can make it do whatever you need it to do. I would absolutely recommend GradLeaders to other universities. I can't stress enough the personalized service that GradLeaders provides. Challenges are solved quickly, everybody is friendly and if the system can't do what you need it to do, wait until the next month because an upgrade could be coming out soon." 
If you need someone on your side to help you save time and prove the value you create, please contact us today.